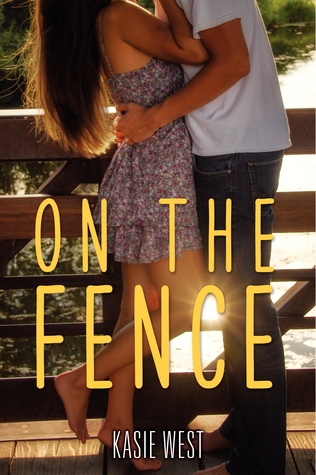 Title: On the Fence
Author: Kasie West
Genres: Young Adult, Contemporary Romance
Published Date: July 1, 2014
Publisher: HarperTeen
For sixteen-year-old Charlotte Reynolds, aka Charlie, being raised by a single dad and three older brothers has its perks. She can outrun, outscore, and outwit every boy she knows—including her longtime neighbor and honorary fourth brother, Braden. But when it comes to being a girl, Charlie doesn't know the first thing about anything. So when she starts working at chichi boutique to pay off a speeding ticket, she finds herself in a strange new world of makeup, lacy skirts, and BeDazzlers. Even stranger, she's spending time with a boy who has never seen her tear it up in a pickup game.
To cope with the stress of faking her way through this new reality, Charlie seeks late-night refuge in her backyard, talking out her problems with Braden by the fence that separates them. But their Fence Chats can't solve Charlie's biggest problem: she's falling for Braden. Hard. She knows what it means to go for the win, but if spilling her secret means losing him for good, the stakes just got too high.
My Thoughts

Having only read Kasie West's The Distance Between Us, I thought I was in for another easy and light read. Going through the first few chapters of the book, I thought it was pretty boring. Nothing much was happening, and I was tempted to do something else, or perhaps, pick up another book. This is one of the few reasons on why I couldn't just give On the Fence a four star rating. That, and it didn't really leave a major impact.
On the Fence may be a story with a cliche plot - having Charlie, the female protagonist, be one of the boys. True, it may be cliche, but Charlie was a relatable character. She was a teenage girl who is starting to learn a lot of things, and it was when her world started to move. In a way, I guess, it was her journey to find the real Charlie. The way this novel was written made it very easy to go with the flow, and I loved the character and plot development. True, at first, I was complaining that nothing much happened, but it was in that that gave a strong foundation for the characterization of not only Charlie, but also her brothers, and Braden. It was endearing to see the growth of Charlie, as she comes to terms with femininity and her mother's death. All throughout, I felt like a cheerleader, who wanted to support and cheer at her like crazy, because the way she realizes things was incredible. To see her struggle as she looks for her own identity, while standing strong amidst all hardships, was really amazing. I am also glad that family plays a big role in this story, as her brothers are adorably protective of Charlie.
Watching the relationship between Braden and Charlie grow was also endearing. Having late night conversations from the opposite sides of the fence teleported them into an alternative reality of their own. I love how this alternative gave strength to each of them and helped them become a stronger individual than they were yesterday. In a way, I suppose, it helped them deal with their problems more, and seeing them find the courage to do so was truly amazing. Besides, I can't help but support the two of them, especially when I see Braden so caring, sweet and kind. Can I have a Braden for myself, please?
Above all else, On the Fence just got me hooked up so hard that I couldn't put the book down. I was drawn to their world, as I felt their emotions, whether they be happiness, sadness, awkwardness, pain, or whatever emotion there can possibly exist. Not to mention that I'm really a sucker for plots with family. Admittedly, being so engrossed in the story, I didn't even realize that I got teary-eyed already (HUHU, ALL THE FEELS, I tell you.) Before I knew it, I was done reading the book. Just like that, finished within a couple of hours.
Truly, as Kasie West mixes humor and problems together, it clearly depicts what life is really all about. There can be no rainbow without a little rain, after all. On the Fence is story about a teenager's journey in finding one's identity, and expanding connections despite differences, that can truly pull you in their world. Don't underestimate this novel: it might be quite short, easy to read, and cliche, but it can definitely pull you in for a roller coaster ride with all its feels. I would definitely recommend it to people who are looking for an amazing romantic and cute read!
My Rating