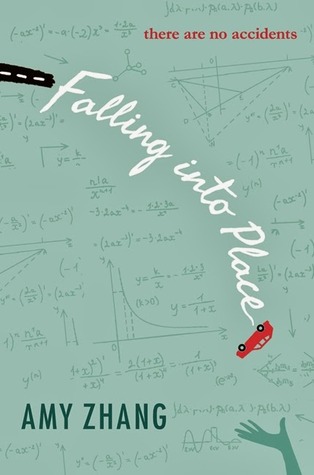 Title: Falling Into Place
Author: Amy Zhang
Genres: Young Adult, Contemporary
Publication Date: September 9, 2014
Publisher: Greenwillow Books
Synopsis from
Goodreads
:
On the day Liz Emerson tries to die, they had reviewed Newton's laws of motion in physics class. Then, after school, she put them into practice by running her Mercedes off the road.
Why? Why did Liz Emerson decide that the world would be better off without her? Why did she give up? Vividly told by an unexpected and surprising narrator, this heartbreaking and nonlinear novel pieces together the short and devastating life of Meridian High's most popular junior girl. Mass, acceleration, momentum, force—Liz didn't understand it in physics, and even as her Mercedes hurtles toward the tree, she doesn't understand it now. How do we impact one another? How do our actions reverberate? What does it mean to be a friend? To love someone? To be a daughter? Or a mother? Is life truly more than cause and effect? Amy Zhang's haunting and universal story will appeal to fans of Lauren Oliver, Gayle Forman, and Jay Asher.
My Thoughts

I've recently taken an interest in books that relate life to technical things like math and science, so I had high hopes for Falling Into Place, and I'm glad to say that I was not let down. It's one you can read in a single sitting, and I think that just made its impact on me even greater.
One of the first things that caught my attention and that I find really cool about this novel is the anonymity of the narrator. It's quite a creative approach in telling an equally interesting story, and the unusual shift in perspective that it gives adds a nice touch to the reading experience. I like how it shifts from past and present and provides us with rather in-depth looks into the characters' lives and how each one of them is connected.
The main character, Liz, is someone that I cannot relate to, what with her being the mean, popular kid and all, but for some reason, seeing her struggle through her problems really makes me sympathize with her. I like how Zhang is able to convey that sadness about her well; the fact that I felt it with her despite her not being someone I would consider good just shows how great the writing is. Liz's best friends Kennie and Julia are not the best people either, but it's clear to see that they care a whole lot for one another. One scene between Liz and Kennie even got me a bit teary-eyed, because I feel like they only feel it's safe to let their walls down when they're with each other (actually, sometimes not even then) and it's just terrible to think that these girls are all so broken inside. Then there's Liam, who I find the most easily likeable, and who I wish had been explored a bit more as a character.
Amy Zhang's Falling Into Place is a heart-wrenching and even chilling look into teenage life that shows us how the people who appear to be the most put together may just be the ones who are actually falling apart.
My Rating