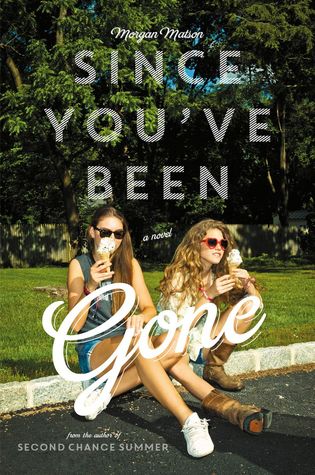 Title: Since You've Been Gone
Author: Morgan Matson
Genres: Young Adult, Contemporary Romance
Publication Date: May 6, 2014
Publisher: Simon & Schuster
It was Sloane who yanked Emily out of her shell and made life 100% interesting. But right before what should have been the most epic summer, Sloane just…disappears. All she leaves behind is a to-do list.


On it, thirteen Sloane-inspired tasks that Emily would normally never try. But what if they could bring her best friend back?
Apple picking at night?
Okay, easy enough.
Dance until dawn?
Sure. Why not?
Emily now has this unexpected summer, and the help of Frank Porter (totally unexpected), to check things off Sloane's list. Who knows what she'll find?
Go skinny-dipping? Wait...what?
My Thoughts
I first saw this title a few months ago, but I only got around to reading it the other week, and when I finished it, all I could think was why did I ignore this on my TBR for so long?! One reason might be that I read something similar (where the main character has this list of fears to overcome) some time ago and I never really got into it, so I couldn't help not expecting much from Since You've Been Gone either. Man, was I wrong.
Matson's writing sucked me right in; I couldn't stop flipping pages! It was a big relief that it was not instalove (THANK YOU!) between Emily and Frank. Their relationship was actually allowed the time to develop, to form something that was actually believable. Their moments together were cute and sweet but they never got cheesy, which is another plus. Even the secondary characters were likeable, especially Collins who I found to be both really fun and a good, supportive friend.
Honestly, I thought the story might turn out a bit shallow at first, but it was actually quite meaningful. The ending may have been somewhat anticlimactic, but I found it nice all the same. There were some parts that weren't given much closure for me, like Emily's relationships with Gideon and Dawn, but I guess that's okay. Overall, Since You've Been Gone is a hit for me! :)
My Rating