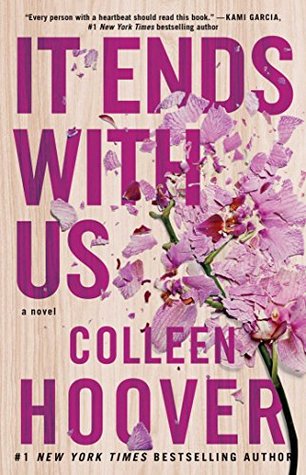 Title: It Ends With Us
Author: Colleen Hoover
Genres: New Adult, Contemporary Romance
Publication Date: August 2, 2016
Publisher: Atria Books
Purchase Links:
SOMETIMES THE ONE WHO LOVES YOU IS THE ONE WHO HURTS YOU THE MOST
Lily hasn't always had it easy, but that's never stopped her from working hard for the life she wants. She's come a long way from the small town in Maine where she grew up - she graduated from college, moved to Boston, and started her own business. So when she feels a spark with a gorgeous neurosurgeon named Ryle Kincaid, everything in Lily's life suddenly seems almost too good to be true.
Ryle is assertive, stubborn, and maybe even a little arrogant. He's also sensitive, brilliant, and has a total soft spot for Lily, but Ryle's complete aversion to relationships is disturbing.
As questions about her new relationship overwhelm her, so do thoughts of Atlas Corrigan - her first love and a link to the past she left behind. He was her kindred spirit, her protector. When Atlas suddenly reappears, everything Lily has built with Ryle is threatened.
With this bold and deeply personal novel, Colleen Hoover delivers a heart-wrenching story that breaks exciting new ground for her as a writer. It Ends With Us is an unforgettable tale of love that comes at the ultimate price.
This book contains graphic scenes and very sensitive subject matter.
How do I even begin with this one?
Before I read It Ends With Us, I had pretty much zero background on what it was going to be about. All I knew was that it's Colleen Hoover's new book, and that was pretty much enough for me to give it a read (yass).
In the first few chapters, I didn't quite feel so into the book; in my mind, I was just thinking: Oh great, another cliche love at first sight kind of plot. Thank God I continued reading, though, because it got better. By a lot. I suddenly couldn't stop myself from flipping through the pages just so I could find out what happens next, and that's how it went until the end of the novel.
This might be because it's my first time to read about abuse, but damn did this book crush my heart. It was so raw, so honestly and wonderfully written, that I could almost feel Lily's and Ryle's pain radiating out of each scene. I love how the characters, especially Lily, developed into visibly braver and more mature people over the course of the story. It was sad that Lily had to go through what her mother did in order to understand her, but I suppose that was an integral part of what made their relationship stronger. I love that abuse and the people involved in it were portrayed in a new light, because it helped me understand that not all of such situations are as black and white as I used to think. I saw the whole thing from another perspective, and it made me ache for both Lily and Ryle even more.
By the time my eyes read the last word, I didn't even care about all the tiny details that I didn't like about the book anymore. The impact of the rest of the story--every thoughtful element that built it up--was more than enough to make up for them.
Colleen Hoover is the New York Times bestselling author of nine novels, including the #1 bestseller, Hopeless. She lives in Texas with her husband and three children. She is the founder of The Bookworm Box, a book subscription service which donates 100% of its proceeds to charity. She also owns The Bo
okworm Box, a specialty bookstore located in Sulphur Springs, Tx.