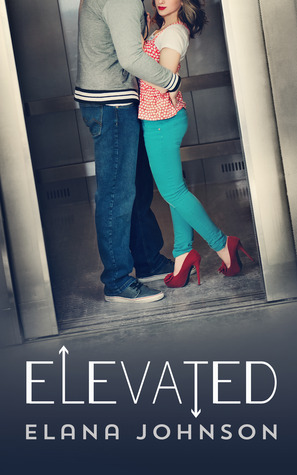 Title: Elevated
Author: Elana Johnson
Publication Date: 2014
Genres: Contemporary Romance, Young Adult
Synopsis from
Goodreads
:
The last person seventeen-year-old Eleanor Livingston wants to see on the elevator—let alone get stuck with—is her ex-boyfriend Travis, the guy she's been avoiding for five months.
Plagued with the belief that when she speaks the truth, bad things happen, Elly hasn't told Trav anything. Not why she broke up with him and cut off all contact. Not what happened the day her father returned from his deployment to Afghanistan. And certainly not that she misses him and still thinks about him everyday.
But with nowhere to hide and Travis so close it hurts, Elly's worried she won't be able to contain her secrets for long. She's terrified of finally revealing the truth, because she can't bear to watch a tragedy befall the boy she still loves.
My Thoughts
Ohmygawd. I seriously just need the next book of Elana's!!! Reading the sneak peek for Something About Love just drove me crazy, as if reading Elevated wasn't enough for me. Because it definitely isn't! I was actually hesitant to read it because it's written in poem verse form, and all my experiences with poems just suck (because they're all related to school). But I'm so glad that I decided to give this a try, and bloody hell, it was so good! Seriously, you have to read Elevated. Why? (at least in my case):
It's heartbreaking. And tear-jerking. At least for me. The rawness of the emotions is just so overwhelming. Every pain, every guilt, every single emotion just drips out of the book and I can feel it so vividly. I am Elly. I am in the story. That's what it felt like. I couldn't even pity her. Or sympathize with her. Because that's just it; reality happens. And reading this novel is the same as living in the reality, that there are just some things we cannot control. There are a lot of what-ifs, what-nots, maybe's, and a whole lot of others. The thing is, reading Elevated through Elly's perspective made me ponder on the things that I had, have, will have. It made me appreciate, cherish, and be gratified with everything that is in my life.
It's awe-inspiring. The ending (nope, not going to mention it), gave me something to think about. It inspired me to start doing something worthwhile and to just live my life. Enough said.
The feels. Really. There's too much feels jam-packed into this novel that I could hardly stop reading. I was greedy, greedy and greedy for more. I wanted to keep on flipping through the pages, delving into the story, but I just can't. It's overwhelming in the way that I just have to stop every once in a while. Otherwise, I might just as well as have been torturing myself. Yes, it was just that intense for me.
The characters. They have their faults. Their flaws. But they all have something in common: the want to do something right and to be able to become someone worthy for others. It doesn't matter if it's for a relationship, or for a friendship. That's just how it is. And this is what makes the characters very humane and relatable. All of them have their own problems to deal with, but no one is alone. And they make sure their friends know that, and it's really amazing how they can balance everything even when things seem to not go their own way.
The plot. It's awesome how a lot of things could just happen in one elevator ride. It's too surreal with the way that the past and present alternate, but they are intertwined and they meet by the end. The plot may be sort of cliche (it was kind of predictable) but still empowering and inspiring. Yet again, at least for me.
To make my reading experience even more magnificent, I felt like I was stuck in the elevator, as I roadtrip going back to Las Vegas from Arizona. (YESSS HELLO MY DREAM FINALLY GOT TO BE IN THIS SIDE OF THE STATES) Excuse my hyperness, but, yeah. With almost everyone asleep in the car, it was like I was in my own world. Just my book, the scenery and I. Amazeballs.
I completely, totally, absolutely recommend reading this! A very short novel that makes me appreciate poetry more, Elevated is a magnificent story on growing up, moving on, and building a path for our own lives. It just sums up a lot of things about family, friends, love and life. I really, really, really cannot wait to read Something About Love!


My Rating