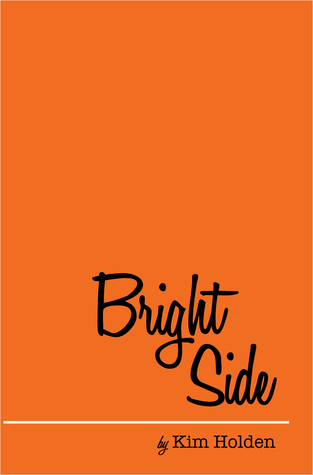 Title: Bright Side
Author: Kim Holden
Publication: 2014
Genres: New Adult, Contemporary Romance
Synopsis from
Goodreads
:
Secrets.
Everyone has one.
Some are bigger than others.
And when secrets are revealed,
Some will heal you ...
And some will end you.
Kate Sedgwick's life has been anything but typical. She's endured hardship and tragedy, but throughout it all she remains happy and optimistic (there's a reason her best friend Gus calls her Bright Side). Kate is strong-willed, funny, smart, and musically gifted. She's also never believed in love. So when Kate leaves San Diego to attend college in the small town of Grant, Minnesota, the last thing she expects is to fall in love with Keller Banks.
They both feel it.
But they each have a reason to fight it.
They each have a secret.
And when secrets are revealed,
Some will heal you …
And some will end you.
My Thoughts

Aaahh! Okay, I don't want to bombard you with my feels right at the start so I'll try to spread it out evenly across this review. When I first saw Bright Side on Goodreads, I was surprised at how high the ratings were—that was mostly what urged me to read it, and I can't be more glad that I did.
Without a doubt, the best thing about this novel is its characters. We start off with Kate Sedgwick moving to Grant, Minnesota for college. There's a lot to admire about this girl: she can make a friend of almost anyone, she hardly loses her temper, and she's not afraid to stand up for herself and her friends. But what I find most amazing about her is her strength, because to be able to go through so much and still choose to be happy and make others happy is something I can't even imagine doing. She's selfless, knowing just how to value others even when they don't value her. Even though it's a bit unbelievable that there could actually be someone like her in this world, she can definitely serve as a model for how we should all be.
Next we have her best friend, Gus, who's a big rockstar. He's big and intimidating, but I love how soft he really is inside. He smokes when he's stressed and is a tad bit overprotective, but I just can't help but warm up to him when I see how much he genuinely loves and cares for Kate.
Then we have Keller, the boy Kate never planned to fall in love with but did anyway. Because who wouldn't fall for this wonderful guy? He's got his share of issues, but that never stops him from giving his all to make Kate happy, because he knows that's exactly what Kate deserves to be. Even if he was stupid at times, his love for Kate is more than obvious, and I can't be more glad that they found each other.
Even the rest of the characters—Clayton, Shelly, Audrey, and the others—are all great in their own ways; they never let Kate forget how special she is. Basically, they're all pretty awesome.
The plot is nothing new. It gives a familiar message, but something in the way Kate acts and tells her story really just draws you in and touches you in a personal way. The pacing was on point; you get to know the characters well enough to feel something for them. And the ending… it's not often that I get to read something that touching and heartbreaking.
Holden's Bright Side is one of the most inspiring books I've read in a long time. I can't even begin to describe the impact it had on me; this is something I wouldn't hesitate to read again. Well, what are you waiting for? Go read this novel, because you won't regret it! And after you do, don't forget: DO EPIC!
My Rating
Real Rating: 4.5