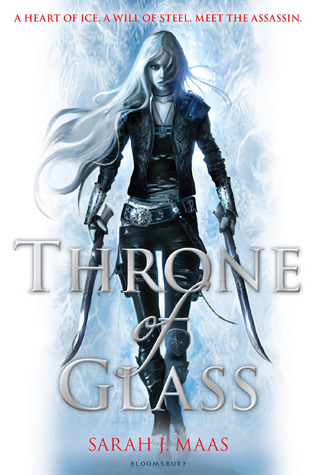 Title:
Throne of Glass
Author:
Sarah J. Maas
Genres:
Young Adult, Romance, Fantasy
Publication Date:
August 2, 2012
Publisher:
Bloomsbury
Purchase Links:
Meet Celaena Sardothien.
Beautiful. Deadly.
Destined for greatness.
In the dark, filthy salt mines of Endovier, an eighteen-year-old girl is serving a life sentence. She is a trained assassin, the best of her kind, but she made a fatal mistake. She got caught.
Young Captain Westfall offers her a deal: her freedom in return for one huge sacrifice. Celaena must represent the prince in a to-the-death tournament—fighting the most gifted thieves and assassins in the land. Live or die, Celaena will be free. Win or lose, she is about to discover her true destiny. But will her assassin's heart be melted?
Man, it feels good to be back! I hadn't been able to read much because ~life~, and I was looking for a really good book that could drag me out of my slump. That turned out to be Sarah J. Maas' Throne of Glass. I'd heard so many great things about this book and I feel like I'd had it on my to-read shelf for forever already, so I thought it would be the perfect time to give it a shot!
I think this is one of those novels that tend to be either a hit or a miss--it was definitely a hit for me. I don't know if it was because I'd been reading-deprived for so long, but I found the plot so exciting and interesting that there were many times I struggled to put it down and go to sleep. The world-building was detailed enough to get me hooked, and while I have to admit that the first third or so of the story was a bit slow-paced, there came a point where big things just started happening one after the other and I caught myself just holding my breath for what could come next.
I believe another aspect that drew me to Throne of Glass was the fact that it boasted a strong female lead. Celaena was quite an enjoyable character to follow, as she's somehow both ordinary and extraordinary at the same time--she's a teenager (and she acts like one), but at the same time, she's also a great and fearless assassin. It's a fun mix of personalities to observe. Dorian and Chaol were entertaining as well (albeit their love triangle with Celaena being a bit meh); however, I think there's still a lot of room to further develop their characters, and that's what I'm hoping to see in the sequels.
Overall, Throne of Glass is a refreshing read. It was a great choice of a novel to get me back in the reading zone, and I'm looking forward to entering the world of Erilea again in the following installments of the series. :)
Sarah J. Maas is the New York Times and USA Today bestselling author of the Throne of Glass series as well as the A Court of Thorns and Roses series.

Sarah lives in Bucks County, PA, and over the years, she has developed an unhealthy appreciation for Disney movies and bad pop music. She adores fairy tales and ballet, drinks too much tea, and watches an ungodly amount of TV. When she's not busy writing, she can be found exploring the historic and beautiful Pennsylvania countryside with her husband and canine companion.