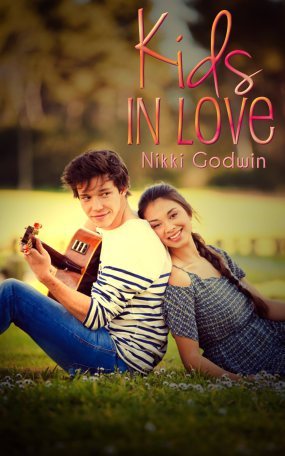 Title: Kids in Love (Saturn #1.5)
Author: Nikki Godwin
Date of Publication: September 7, 2014

Amazon || Smashwords

Synopsis from Goodreads:
As one of the original Saturnites, Darby McMillon has been a longtime face of the fandom. From the days when the boys were just a YouTube band trying to gain fans up through their recent lockdown, Darby's channel - Darby's Daily Dose of Drama - was the "go to" spot for all things Spaceships Around Saturn.

Until now, she's been trusted by most and envied by few, but her meet up with SAS girlfriend Chloe Branson shakes Darby's world. She learns quickly that when you're with the band, everything isn't always red carpets and music videos.

And the closer she gets to her SAS crush Tate Kingsley, the closer she comes to losing her Saturnite status forever.
American Girl on Saturn
Title: American Girl on Saturn (Saturn #1)
Author: Nikki Godwin
Date of Publication: August 29, 2013

Amazon || B&N || Smashwords
Synopsis from Goodreads:
The summer after graduation is supposed to be that first real taste of freedom - but not for eighteen-year-old Chloe Branson. Just as that breeze of freedom is making its way into her galaxy, her secret-service-agent dad drops a meteor-sized bomb of bad news on her and her sisters. An attempt has been made on the lives of Canadian boyband, Spaceships Around Saturn, during their USA tour, and the guys have to go into hiding ASAP. The only problem? In the midst of the crisis and media frenzy, their dad volunteered to hide the guys...in their house.

Six-year-old Emery is as ecstatic as any self-proclaimed Saturnite would be, but Chloe and her seventeen-year-old sister Aralie watch their summer plans crash and burn like a falling star. The SAS guys aren't happy with the situation, either. Bad boy Jules picks fights with Aralie about everything from his Twitter followers to his laundry, and heart-throb Benji can't escape Emery's fangirlisms for more than three minutes.

But after the super-cute Milo kisses Chloe during a game of hide-and-seek, she finally understands what Emery means when she talks about SAS being "out of this world." If this is what Saturn feels like, Chloe doesn't want to come back to Earth.

Excerpt from Kids in Love
A stampede of girls charge through the mall, running like a herd of zebras in the safari lands, dashing away from their predator and into a safe zone – which in this case, is Saturn. They scream in hysteria, pushing people aside and fighting with each other as they dart toward the stage. I don't know how they got past all the security and law enforcement, but I don't have time to process it.

In the midst of the craziness, Jules brushes past me, grabbing Aralie and moving out quickly. Tank shouts something toward the stage, and Benji slams into me trying to reach his bodyguard bestie. He doesn't apologize or ask if I'm okay or even make eye contact. Instead, Benji latches onto Chloe's shoulder and pushes her ahead of him, keeping her wedged safely between himself and Tank.

So this is how I'll die? I'll get caught in the crossfire and stampede of Saturnites, who are already angry with me anyway, while security rushes to save the precious Branson sisters and Benji Baccarini. If I ever felt VIP before, I've lost that status entirely. I wasn't even important enough for security to grab on their way to safety. I'm just another crazy fangirl who's been left behind for the mall security and local law enforcement to send home.

"What the hell?" Sydney shouts, bumping into me as girls push toward the empty stage. "How did they get in? And what the hell are we supposed to do now?"

She screams the words, but it's almost useless. We're jostled around in the crowd, even in our VIP wing. I could stab the idiot who didn't secure whatever portal these crazy Saturnites crawled through. Not only did they ruin my first SAS show but they also proved my Saturnite worth, which is nothing.
About the Author
Nikki Godwin is a YA/NA/LGBT author. She can't live without Mountain Dew, black eyeliner, and music by Hawthorne Heights. When not writing, she internet-stalks her favorite bands and keeps tabs on surf competitions. Her life goal is to meet David Desrosiers of Simple Plan. Her favorite pro surfers are Jeremy Flores, Gabriel Medina, and John John Florence.
Giveaway
Swag pack for American Girl on Saturn, Kids in Love, and Cross Me Off Your List (Noah's book)
Open internationally.
a Rafflecopter giveaway