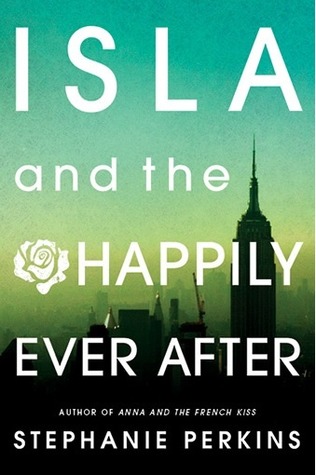 Title: Isla and the Happily Ever After
Author: Stephanie Perkins
Publication Date: 2014
Genres: Young Adult, Contemporary Romance
Synopsis from Goodreads:
Love ignites in the City That Never Sleeps, but can it last?
Hopeless romantic Isla has had a crush on introspective cartoonist Josh since their first year at the School of America in Paris. And after a chance encounter in Manhattan over the summer, romance might be closer than Isla imagined. But as they begin their senior year back in France, Isla and Josh are forced to confront the challenges every young couple must face, including family drama, uncertainty about their college futures, and the very real possibility of being apart.
Featuring cameos from fan-favorites Anna, Étienne, Lola, and Cricket, this sweet and sexy story of true love—set against the stunning backdrops of New York City, Paris, and Barcelona—is a swoonworthy conclusion to Stephanie Perkins's beloved series.
My Thoughts
Isla and the Happily Ever After is another one of the books I was really looking forward to reading, because I loved Anna and Lola! I didn't get to read it until about a month after it was released, so you can imagine my giddiness at finally getting my hands on the book.
Sadly, it kind of disappointed me. I found it mostly boring, to be honest. I guess I didn't sit well with how Isla and Josh got together rather quickly—I wanted to see a gradual development of their relationship, not some form of instalove. It made the story a lot less interesting for me.
While I was reading the first half, I thought a lot of Isla's "problems" were just petty, and I didn't really feel for her as much as I would've liked to. I didn't like how she handled things with Josh; it was pretty immature. I understand that she's insecure and all that, but I don't think that's enough of an excuse for her to act the way she did. Nevertheless, I like how Isla's different from both Anna and Lola; sure, she was needy and kind of annoying sometimes, but it was a nice change from the previous stronger leads. Besides, Josh himself was also insensitive at times, and he too did some really stupid things. In the end, they're both still teenagers, so I guess their mistakes somehow added to their realness as characters.
What I loved most was seeing St. Clair, Anna, Cricket, Lola, and Meredith again! They brought back memories from reading the last two books, making me want to read them all over again. They're all still as adorable as ever, especially St. Clair and Anna! And then there was the ending. If anything could make up for the plot, it was that beautiful ending—a real happily ever after.
All in all, Isla and the Happily Ever After is a light and cute read; although it may not be Perkins' best work, it's still worth checking out!
My Rating