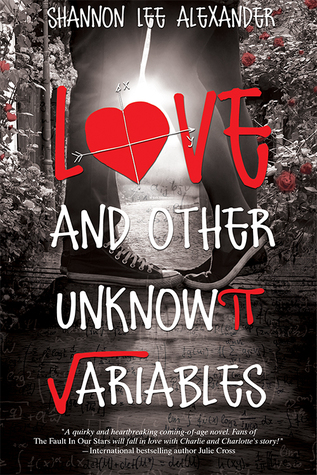 Title: Love and Other Unknown Variables
Author: Shannon Lee Alexander
Genres: Young Adult, Contemporary Romance
Publication Date: October 7, 2014
Publisher: Entangled: Teen
Synopsis from
Goodreads
:
Charlie Hanson has a clear vision of his future. A senior at Brighton School of Mathematics and Science, he knows he'll graduate, go to MIT, and inevitably discover solutions to the universe's greatest unanswered questions. He's that smart. But Charlie's future blurs the moment he reaches out to touch the tattoo on a beautiful girl's neck.
The future has never seemed very kind to Charlotte Finch, so she's counting on the present. She's not impressed by the strange boy at the donut shop—until she learns he's a student at Brighton where her sister has just taken a job as the English teacher. With her encouragement, Charlie orchestrates the most effective prank campaign in Brighton history. But, in doing so, he puts his own future in jeopardy.
By the time he learns she's ill—and that the pranks were a way to distract Ms. Finch from Charlotte's illness—Charlotte's gravitational pull is too great to overcome. Soon he must choose between the familiar formulas he's always relied on or the girl he's falling for (at far more than 32 feet per second squared).
My Thoughts
When a friend of mine recommended that I read Love and Other Variables, I was so ready for something new to read that I didn't even check its synopsis anymore. I took the first chance I could to read it, and it sucked me right in.
The novel is about Charlie Hanson, one of the smartest seniors at Brighton. He has his future at MIT mapped out, but things change when he meets Charlotte Finch. Suddenly, Charlie finds himself willing to do anything for this girl, even at the risk of his admission to his dream college, because for once, he sees that maybe life isn't quite the straight line he's always made it out to be.
Can I just say, I love how cute this book is! Charlie is adorable; he may know a lot about math and science, but he's pretty much clueless when it comes to girls, and it's kind of funny to watch him try to overcome that weakness. Charlotte is great, too. I love her relationship with Charlie and how loyal she is to Becca. I adore how strong she is despite what she's going through. Becca's mature for her age, and it makes me sad that not many people get a chance to see how awesome she actually is. Another character I love is Mrs. Dunwitty. I like how she and Charlie develop an unexpected relationship that's both comical and sweet. Basically, all of them are really likeable, and while that may not be the most realistic thing, it's nice to read nonetheless.
The plot is well paced and interesting enough to draw my attention. Because I didn't read the synopsis, I wasn't aware about Charlotte's illness from the start. Although there are enough hints to eventually lead me to come to a close enough conclusion, it still broke my heart when the revelation came. I came close to crying at some point (which, believe me, is already enough, as I hardly ever really cry when I'm reading), and I finished the book with a smile on my face.
Shannon Lee Alexander's Love and Other Variables is a beautiful story that's both cute and heartwrenching, so if that's the kind of thing you're into, then go read it now because it definitely won't disappoint.
My Rating