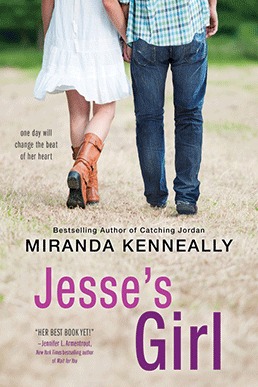 Title: Jesse's Girl
Author: Miranda Kenneally
Publication Date: July 7, 2015
Genres: Young Adult, Contemporary Romance, Music
Synopsis from Goodreads:
Everyone at Hundred Oaks High knows that career mentoring day is a joke. So when Maya Henry said she wanted to be a rock star, she never imagined she'd get to shadow *the* Jesse Scott, Nashville's teen idol.
But spending the day with Jesse is far from a dream come true. He's as gorgeous as his music, but seeing all that he's accomplished is just a reminder of everything Maya's lost: her trust, her boyfriend, their band, and any chance to play the music she craves. Not to mention that Jesse's pushy and opinionated. He made it on his own, and he thinks Maya's playing back up to other people's dreams. Does she have what it takes to follow her heart—and go solo?
My Thoughts
I JUST LOVE THIS ONE!!!! After not reading for a few weeks now because I'm just either too busy with school or just not in the mood to do so, this one was a great start for me to restart reading again. I didn't like how it didn't had much character development, but that's okay. I'm assuming that's because Jesse's Girl is written in a way that assumes the reader already knows Maya. Well, I don't, since I've never read a book from the Hundred Oaks series. But that was okay. Everything else pretty much made up for it.
It's easy to read, and fast-paced. Normally, I'd like to see things develop for themselves, but since I don't have that much free time in my hands as well, it fits perfectly with what I was looking for at that moment. I really found myself very into it, and unable to stop reading. With the way the story went, I didn't even realize that I'm already halfway through the book. I just kept on reading, reading, reading. And it felt good. It's been a while since I got hooked up in a book, so this one was a refreshing experience for me. Also, I LOVE HOW THE STORY IS SO FAMILY-ORIENTED. <3 <3 The support and love that Maya's family has for her is just overwhelming and amazing. I just found myself squealing and gushing whenever I see their family interactions because they're just so close. AND IT'S REALLY AWESOME!!!!!!!
I came to love Maya very fast because she's very relatable to me - someone who is always afraid to take chances at her dreams by herself. It felt like she always needed to be with someone to do something that she likes, especially when it came to her music. I also loved her honesty when it came to the people and media's attention to her. I usually find the characters in such stories being afraid of the media and stuff, but deep down, they're kind of revelling in the attention. In Maya's case, however, she seems to be bothered with the constant attention and questions, but at least she admits to herself that she likes it anyway. Her capability to be honest is just amazing. Plus, I love how much she changes as the story went on, and despite these changes, she remains to be someone who is still flawed and relatable in my part. And Jesse? OHMYGAWD. THAT'S SO COOL!!! I found myself falling in love with him as well as a character. He came off as a douche at first, but as the story progressed, I love how he behaves when he's with Maya. It was great to see that even though he's someone very famous (a country singer OHMYGLOB!), he still behaves like his age and has all those problems of his own.
Even though Maya and Jesse seem to be like polar opposites when it comes to their circumstances, I can't help it but constantly scream in my head that THEY'RE JUST SO CUTE TOGETHER!!!!!!!! <3 <3 <3 I really had fun reading their interactions, and I found myself constantly wearing a smile. It was a great stress-reliever, and it just made me forget all the deadlines that I have to do for school (I CRY). It felt like I was in their world, and could imagine myself doing all those stuff with them. In the end, the greatest thing I love with the both of them is that they have it in themselves to constantly want the best for the other, even though there is something at stake for them. It was selfless and simply beautiful.
If you're looking for something short, fun and easy to read, Jesse's Girl is for you! Who would want to skip out on these awesome family dynamics and sweet, cute romance, RIGHT? My head's a mess right now after reading this, so I don't think this one is something that can totally convince you to read it. I also know that I rated it just four stars and not five, but I think that's entirely because I hadn't read any Hundred Oaks books yet. So yes, I'm going to reread this after I read the entire series. BUT IT'S REALLY BEAUTIFUL AND AMAZING!!! SO please, please, please. Go read it! <3
My Rating