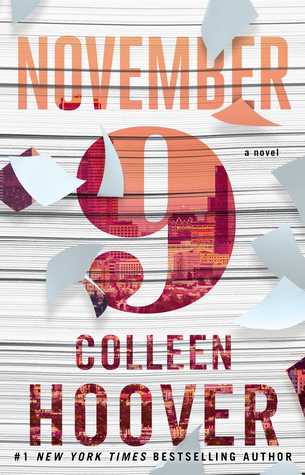 Title: November 9
Author: Colleen Hoover
Genres: New Adult, Contemporary, Romance
Publication Date: November 10, 2015
Publisher: Atria Books
Purchase Links:
Beloved #1 New York Times bestselling author Colleen Hoover returns with an unforgettable love story between a writer and his unexpected muse.
Fallon meets Ben, an aspiring novelist, the day before her scheduled cross-country move. Their untimely attraction leads them to spend Fallon's last day in L.A. together, and her eventful life becomes the creative inspiration Ben has always sought for his novel. Over time and amidst the various relationships and tribulations of their own separate lives, they continue to meet on the same date every year. Until one day Fallon becomes unsure if Ben has been telling her the truth or fabricating a perfect reality for the sake of the ultimate plot twist.
So. November 9 by Colleen Hoover. I expected a lot from this one, because it was one of the first books a friend of mine recommended when I asked her for titles I could read. Add that to the fact that I've always been a fan of Hoover's work and you see why I was so eager to read this. But, as I've come to notice, there's been a trend with how I enjoy her books lately—the beginning's alright, the middle doesn't interest me much, and just when I'm losing hope, it starts getting better and the ending is just BAM! Feels everywhere!—and the experience I had with November 9 was no different.
To start off, I like the way the characters Fallon and Ben were introduced, and how, like most of Hoover's recent books, there's an air of mystery around their pasts. What didn't sit well with me was that it turned out to be another instalove situation *insert eye roll here*. I mean, sure, they acknowledged this, but that doesn't really make it any better. After that came a bombardment of cheesy lines that made me cringe, although that might just be me (maybe other people found them sweet?) because I'm not a fan of that stuff, and I didn't quite find their relationship realistic.
I was actually close to giving up when I felt the plot twist finally looming in the near future, and at that point I decided I wanted to know what it was more than I wanted to save myself the trouble. So I read on, and man am I glad I did, because that twist was just… woah. I can't say it was a complete surprise, because there were definitely hints leading up to it, but damn. The revelation made me a little uneasy about the foundation of Fallon and Ben's relationship, but it also became my motivation to read until the end, and while I felt that Ben's intentions were something worth exploring, I wouldn't say I was all that disappointed about how everything was wrapped up.
In summary, November 9 isn't a bad story, but I felt it could have been better. The plot was okay, and the characters were interesting enough, and it had its fair share of quotable quotes. If you've read a book or two of Hoover's more recent novels and found you liked her style, then I fully suggest giving this one a try! :)