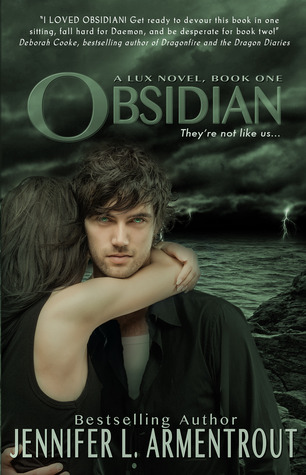 Title: Obsidian (Lux #1)
Author: Jennifer L. Armentrout
Publication Date: May 8, 2012
Genre: Young Adult, Romance, Aliens
Synopsis from
Goodreads
:
Starting over sucks.
When we moved to West Virginia right before my senior year, I'd pretty much resigned myself to thick accents, dodgy internet access, and a whole lot of boring... until I spotted my hot neighbor, with his looming height and eerie green eyes. Things were looking up.
And then he opened his mouth.
Daemon is infuriating. Arrogant. Stab-worthy. We do not get along. At all. But when a stranger attacks me and Daemon literally freezes time with a wave of his hand, well, something... unexpected happens.
The hot alien living next door marks me.
You heard me. Alien. Turns out Daemon and his sister have a galaxy of enemies wanting to steal their abilities, and Daemon's touch has me lit up like the Vegas Strip. The only way I'm getting out of this alive is by sticking close to Daemon until my alien mojo fades.
If I don't kill him first, that is.
My Thoughts
I've been hearing about the Lux series from my friends since about last year, but I never really gave it a second thought because I wasn't much into the paranormal stuff. But then with the recent Bout of Books challenge, I saw this title again, and in the spirit of trying something different, I gave it a shot. I didn't like it as much as I hoped I would (what with my friends gushing about it), but it's an entertaining enough read.
Obsidian follows Katy, who just moved to West Virginia with her mom after her dad's passing. In such a small town, one would expect it to get boring real quick, but with neighbors like Dee and Daemon Black, how could it? Katy and Dee become friends instantly, but Daemon's nothing like his twin sister. He's dark, conceited, snarky, … but also irresistibly hot. And as if that isn't enough, he's also an alien. A being from another planet. Things just got a whole lot more complicated for Katy.
Okay. I've read enough reviews to know that when people talk about this book, they can't help but go crazy about the gorgeous guy that is Daemon Black. So don't kill me for saying this, but honestly, I don't understand what there is to love. He's got the looks and the body that would make any girl drool, sure, but for the most part, he's kind of an ass. It's like he thinks that looking good gives him the right to be obnoxious. There were some parts where we see a softer side to him, but then he goes right back to his annoyingly cocky self again. I don't like how Katy's head over heels for him despite his being rude and mean. It's obvious by now that I did not get much of what my friend (hi, Pauline) refers to as "Daemon feels". He's sweet for caring so much about his sister and everything, but he doesn't have to be a jerk. Daemon becomes more tolerable by the end, after everything he and Katy go through, and I have to admit that they do share a lot of chemistry. Katy having a book blog is pretty cool, and she has an awesome relationship with her mom. It's nice to see her develop as the story plays out. In contrast to her twin, I actually adore Dee's personality; she's so genuinely kind, and you can see how she really strives to build friendly relationships with people despite her being different.
The plot's not bad. The pace is a bit too slow for the first half of the book, but the last parts are pretty great. I would've liked it more had there been more insight about the whole DOD issue, because I feel that the book doesn't really explain that area thoroughly. I also want to learn more about the other Luxen (like Mr. Garrison, and whatever happened to Dawson), so I'm hoping there'll be more of them in the next installments.
In the end, JLA's novel is interesting enough for me to want to read the rest of the series, so yay for that! If you're into the whole paranormal scene or even just looking for something a bit unique for your next read, I suggest giving Obsidian a try!
My
Rating