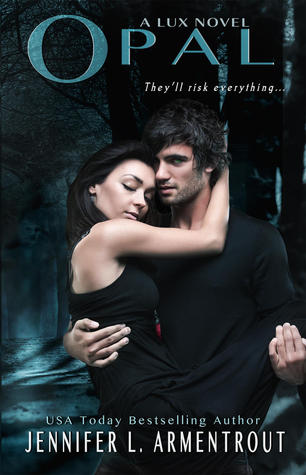 Title: Opal (Lux #3)
Author: Jennifer L. Armentrout
Publication Date: December 11, 2012
Genre: Young Adult, Romance, Aliens
Synopsis from
Goodreads
:
No one is like Daemon Black.
When he set out to prove his feelings for me, he wasn't fooling around. Doubting him isn't something I'll do again, and now that we've made it through the rough patches, well... There's a lot of spontaneous combustion going on.
But even he can't protect his family from the danger of trying to free those they love.
After everything, I'm no longer the same Katy. I'm different... And I'm not sure what that will mean in the end. When each step we take in discovering the truth puts us in the path of the secret organization responsible for torturing and testing hybrids, the more I realize there is no end to what I'm capable of. The death of someone close still lingers, help comes from the most unlikely source, and friends will become the deadliest of enemies, but we won't turn back. Even if the outcome will shatter our worlds forever.
Together we're stronger... and they know it.
My Thoughts
So now we've arrived at Opal! Here, we see how Katy, Daemon, and the other Luxen plan and train in order to save Beth. They may have to form an alliance or two with people they don't necessarily trust, but for Dawson, nothing matters more than finally being reunited with the girl he loves.
Unfortunately, they end up with more problems in their hands than they were prepared for…
The relationship between Katy and Daemon is taken to the next level! It's kind of funny that whenever they get some alone time, someone or something would always turn up and ruin it. I like how much Katy has grown; she tries so hard to control her powers and do the right thing without letting her new abilities get into her head. It's annoying how she always feels insecure and jealous of Ash when it comes to Daemon, but thankfully she gets past that. Daemon is sweet for supporting Katy through everything. Even though they often fight over her safety, you can really see how much Daemon loves her and would do anything to protect her. It's sad to see how much Katy and Dee have drifted apart since the first book, but it's nice that their friendship is something realistic, and they didn't just suddenly become BFFs again. Blake is still blah, and he'll always be a creeper now no matter what he does.
The plot remains exciting as even more secrets are uncovered. The pacing was pretty good. There are scenes that caught me off guard, and THAT CLIFFHANGER! I guess that makes it kind of a good thing that I can continue right on to the next book!
The story just gets better and better! You won't want to miss out on this one! :)
My Rating