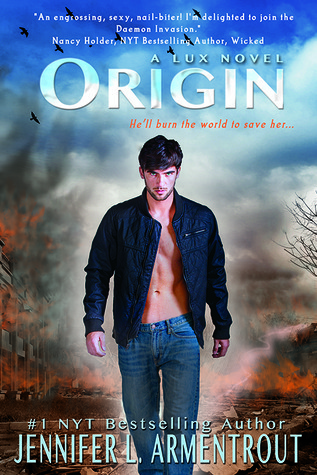 Title: Origin (Lux #4)
Author: Jennifer L. Armentrout
Publication Date: August 27, 2013
Genre: Young Adult, Romance, Aliens
Synopsis from
Goodreads
:
Daemon will do anything to get Katy back.
After the successful but disastrous raid on Mount Weather, he's facing the impossible. Katy is gone. Taken. Everything becomes about finding her. Taking out anyone who stands in his way? Done. Burning down the whole world to save her? Gladly. Exposing his alien race to the world? With pleasure.
All Katy can do is survive.
Surrounded by enemies, the only way she can come out of this is to adapt. After all, there are sides of Daedalus that don't seem entirely crazy, but the group's goals are frightening and the truths they speak even more disturbing. Who are the real bad guys? Daedalus? Mankind? Or the Luxen?
Together, they can face anything.
But the most dangerous foe has been there all along, and when the truths are exposed and the lies come crumbling down, which side will Daemon and Katy be standing on?
And will they even be together?
My Thoughts
In Origin, the fourth book in JLA's Lux series, Katy starts off in the middle of the secret project that started it all - Daedalus. As expected, Daemon sets off to rescue her, ignoring the dangers that he might have to face. Will he succeed, or will they end up being subjected to the same horrors as Dawson and Beth? Then again, the strength of their bond may just be what Daedalus needs...
Ohh man, this book is great! I can't even begin to imagine what Kat has to go through in the first half of the book. She's so strong for being able to live with those memories just like Beth does. Katy and Daemon really solidify their relationship even further in this one, and it's good to see her and Dee getting close again. I was a little unsure about what to make of Luc when he appeared in Opal, but now I can say that he's freakin' awesome! Archer is an interesting new addition, though I find his story quite sad. I admire how selfless all these characters are; they don't think twice about sacrificing themselves for one another. Sometimes some of them make mistakes, but I guess that happens to even the best people when they're desperate. I still can't get over how many of them had to die for their cause.
Everything in this story just kind of pulled me in, especially the last parts. I was already expecting there to be some big twists, but they caught me by surprise nonetheless, especially what happens to Blake. There is a lot more behind Daedalus than I thought, and I'm still very curious about the fate of the origins. And c'mon, yet ANOTHER cliffhanger?! Opposition, please come faster!
If you liked the first three books, you'll definitely love this one! :D
M

y Rating