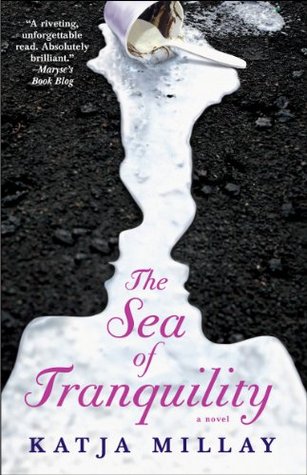 Title: The Sea of Tranquility
Author: Katja Millay
Publication Date: November 13, 2013
Genres: Young Adult, Contemporary Romance
Synopsis from
Goodreads
:
I live in a world without magic or miracles. A place where there are no clairvoyants or shapeshifters, no angels or superhuman boys to save you. A place where people die and music disintegrates and things suck. I am pressed so hard against the earth by the weight of reality that some days I wonder how I am still able to lift my feet to walk.
Former piano prodigy Nastya Kashnikov wants two things: to get through high school without anyone learning about her past and to make the boy who took everything from her—her identity, her spirit, her will to live—pay.
Josh Bennett's story is no secret: every person he loves has been taken from his life until, at seventeen years old, there is no one left. Now all he wants is be left alone and people allow it because when your name is synonymous with death, everyone tends to give you your space.
Everyone except Nastya, the mysterious new girl at school who starts showing up and won't go away until she's insinuated herself into every aspect of his life. But the more he gets to know her, the more of an enigma she becomes. As their relationship intensifies and the unanswered questions begin to pile up, he starts to wonder if he will ever learn the secrets she's been hiding—or if he even wants to.
The Sea of Tranquility is a rich, intense, and brilliantly imagined story about a lonely boy, an emotionally fragile girl, and the miracle of second chances.
My Thoughts
In The Sea of Tranquility, we are introduced to main character Natsya, the new girl in school. She seems pretty normal… except she doesn't talk, and nobody knows why. She's kept the secret of her past hidden, and she has no problem with staying away from people. That is, until she meets Josh, the quiet, troubled guy from shop class. For some reason, she is drawn to him, and he might just be exactly what she needs to find her voice again.
I love the characters and how well they are developed. They feel so real that I can almost imagine being right there with them, experiencing all the things they are. Natsya is great in the sense that her thoughts and actions are believable. She's able to say a lot without even uttering a word. She acts all tough and snarky, and sometimes that makes me sad because in truth, she is lonely inside. It's like she resorts to witty comments so as not to show that she does, in fact, have a vulnerable side. After what she went through, I can't even blame her. Despite her experience, though, she's far from the weak and helpless girl that people would expect her to be, and I really respect her for that. I'm glad that she is able to grow as a person and find peace in the end.
Josh is not a judgmental person, and he actually sees through all the crap that Natsya uses to protect herself. He's drawn to her because they're both damaged, and the hardships they had to face are actually what allows them to form a stronger bond. I love that he is persistent and how he comes to love Natsya in spite of her reluctance to let him in.
My favorite character would have to be Drew. He starts off like the stereotypical playboy, but he's different; there's so much more to him. He may not know the right things to say or do all the time, but he has a big heart, and it's hard to get mad or annoyed at this guy. He knows that how he acts is wrong, but it's become such a normal thing for him to cover up his real feelings that he can't help but act like a jerk at times. I think that his attempts to hide are exactly why Natsya just connects with him.
The plot is amazing. I never got bored reading this book, and I had the hardest time putting it down. The story made me happy and sad at the same time. There is just so much depth and emotion to the novel that even after I finished it, I found myself just thinking everything through again and having trouble believing that the book was over.
I read this book mostly because Pauline kept gushing over it. I checked it out on Goodreads and found that all my friends had rated it five stars, so that really got me curious. I have to admit that I was a bit skeptical that a book could be THAT good, but man, was I proved wrong. I set my expectations high on this one, and they were certainly met, maybe even exceeded! I'm not one to read books over, but I wouldn't think twice about reading this again. So if you haven't read this book, PLEASE, FOR YOUR SAKE, GO READ IT AND BASK IN ALL THE FEELS IT WILL GIVE YOU.
My Rating