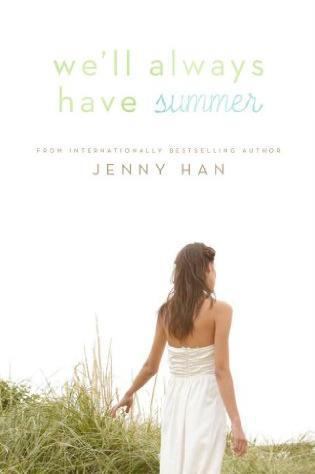 Title: We'll Always Have Summer (Summer #3)
Author: Jenny Han
Publication Date: April 26, 2011
Genres: Young Adult, Contemporary Romance
Synopsis from
Goodreads
:
It's been two years since Conrad told Belly to go with Jeremiah. She and Jeremiah have been inseparable ever since, even attending the same college-- only, their relationship hasn't exactly been the happily ever after Belly had hoped it would be. And when Jeremiah makes the worst mistake a boy can make, Belly is forced to question what she thought was true love. Does she really have a future with Jeremiah? Has she ever gotten over Conrad? It's time for Belly to decide, once and for all, who has her heart forever.
My Thoughts
Despite loving the first two books so much, I am disappointed with this last book. The entire first half of the book I was just so mad that I can almost murder Belly. Oh, and Jeremiah. Actually, just everyone. I just couldn't imagine how they could suddenly be like that, and I'm just like, what happened to you guys? Ohmygosh. Seriously. I didn't even like the first half, but I guess this was what I was waiting for. The big thing. The turning point.

It made me decide that I'd be Team Conrad rather than Team Jeremiah. I really liked Jeremiah, but he just didn't cut it out for me in this book. I hated it. I didn't like him. I hated how things ended up like that. It was just a big no, no, no for me. Also, having read Conrad's POV made me understand him even more, with all the words and actions he had said and done. I felt an even deeper connection with him than with Jeremiah.

I didn't like how the things got so jumbled up, that I don't even know what was happening anymore. At first, things were going this way, and then the next thing I knew, they were going that way. At the age of nineteen, things didn't seem realistic for Belly anymore, and I just stopped being able to relate with her at some point, which was really maddening for me.

In all honesty, I was thinking of rating this book just three stars, but that ending was also a big turn-around for me. It was everything. It just made up for all the tantrums I had in the first half of the book, so I decided that this simply cannot be three stars.

Even though I didn't love We'll Always Have Summer as much as I did on the first two books, this Summer trilogy is indeed a must-read! Not to mention that it's summer now in other countries (meh, it's study time for me huhu) so it's a perfect read. Go grab a copy, and read this series now!
My Rating