Click on banner to follow the tour!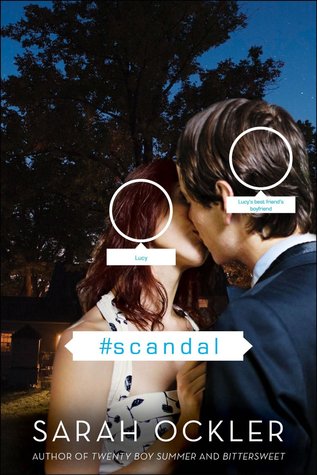 Title: #Scandal
Author: Sarah Ockler
Publication Date: June 17, 2014
Genre: Young Adult, Contemporary Romance
Lucy's learned some important lessons from tabloid darling Jayla Heart's all-too-public blunders: Avoid the spotlight, don't feed the Internet trolls, and keep your secrets secret. The policy has served Lucy well all through high school, so when her best friend Ellie gets sick before prom and begs her to step in as Cole's date, she accepts with a smile, silencing about ten different reservations. Like the one where she'd rather stay home shredding online zombies. And the one where she hates playing dress-up. And especially the one where she's been secretly in love with Cole since the dawn of time.
When Cole surprises her at the after party with a kiss under the stars, it's everything Lucy has ever dreamed of… and the biggest BFF deal-breaker ever. Despite Cole's lingering sweetness, Lucy knows they'll have to 'fess up to Ellie. But before they get the chance, Lucy's own Facebook profile mysteriously explodes with compromising pics of her and Cole, along with tons of other students' party indiscretions. Tagged. Liked. And furiously viral.
By Monday morning, Lucy's been branded a slut, a backstabber, and a narc, mired in a tabloid-worthy scandal just weeks before graduation.
Lucy's been battling undead masses online long enough to know there's only one way to survive a disaster of this magnitude: Stand up and fight. Game plan? Uncover and expose the Facebook hacker, win back her best friend's trust, and graduate with a clean slate.
There's just one snag—Cole. Turns out Lucy's not the only one who's been harboring unrequited love...
My Thoughts
At first glance, I was like, whoa, cyber bullying. I was excited to read on it because just recently I just researched on bullying, so I felt familiar with the topic, like the causes and effects and all those things. However, as I continued reading I felt nothing. I saw the effects like the lowered self esteem and blabla but I really didn't feel connected with Lucy. I felt that the others seemed shallow and I was like YOU'RE HIGH SCHOOL SENIORS. YOU SHOULD UNDERSTAND THAT. Or whatever. I thought that Lucy would be feeling more embarrassed and pained and all that, but her feelings didn't cover my expectations. Not to mention that she does what she thinks other people would think is
right
, not the one she thinks will
defend herself
. I got really mad about it, because when you're bullied, you either:
1. Become a pushover.
2. Learn how to stand up for yourself.
I guess I was expecting her to learn how to
stand up
, because this is a novel that tackles about bullying, and I thought that maybe it'd become an inspiration to those getting bullied and all that. But I was wrong.
Lucy turned out to be whiney about everything that is happening to her, thinking that it's all the "karma" for her actions, but really, bullying is not a justification for what she did. No one deserves to be bullied.
I also got annoyed that the teachers and principal (Ms. Zeff) didn't even do anything for the problem. They did little, to none at all, to help solve bullying, and it was really OHEMGEE. They're the adults, so they should be responsible in helping Lucy out.
Also, for a novel about bullying, it is a light read, with all the fun banters etc. I guess I just thought it'd be heavier, so I got disappointed. It was fun reading them though, especially with all the Veronica Mars and Sherlock Holmes and all those detective stuff. I was also curious on who posted those pictures and how they did it, so thats a plus point for me, but it did seem kind of obvious on who did it. However, their clues were all over the place, and there were so many mysteries being tackled at the same time, which made the story a little bit confusing.
I love the fact that they were able to find friends even though everything doesnt seem to be going their way. It was nice to know that something good still happens amidst all the bad things. I just love their friendship all together even though they are different. And, this bullying event has made Lucy less judgemental about the other people, most especially e(V)IL, which I really liked.
I liked how Jayla, Lucy's sister, tried to be a parental figure to Lucy, even though she failed. I like how she helped Lucy through retail therapy, but it's not enough as an apology to whatever mistake she has done. It was like saying, I'm giving you money, please forgive me. That's a big no-no for me.
I hated how Ellie doesn't seem to even want to hear the details for Lucy herself. It was
annoying
.
Also, why didn't she just tell Lucy everything from the start, right? I mean, they're best friends and all that, so I expected differently from her. Although, I love that she stood up for Lucy, even though she's avoiding Lucy.
I found myself liking the secondary characters more, even if they weren't properly developed. All of them suddenly came out of nowhere, and they were a lot, so at times, I find myself thinking, who is
this again?
As for Cole, he seemed to be coming in and out from the story whenever he felt like it. If he truly loves Lucy, you'd think that he'd be there beside her always, but MEH. Franklin was there for her even more than Cole did. Also, if you're in love with your girlfriend's best friend, wouldn't it be like,
best,
if you broke up with your girlfriend? Ohmycrappola.
Oh, and I totally didn't feel the fireworks between Cole and Lucy. I guess maybe it was because right from the start, the two of them were in love with each other. But, I expected that their relationship would grow even more and that they get the chance to know each other, but that just didn't happen.
WHICH. ENTIRELY. SUCKS.
Overall, even though I had lots of rants and complains, and found myself annoyed lots of times (although that may be just me), it's still a fun read. #Scandal may not have met my expectations on the issue of bullying, but I definitely liked the other lessons and principles it may have beneath all the bullying.
I may not have super enjoyed reading this one, but I'm sure others will. It's a great novel that makes you realize a lot of things, particularly about the society we have right now.
Excerpt
If a picture is worth a thousand words, a picture tagged on Miss Demeanor's Scandal of the Month page is worth about a million. Especially when the story all those words tell is an absolute lie.
Well, mostly a lie.
The part about falling asleep in his arms is sort of true. I don't remember the details about the horse, or how it got into the living room exactly, but judging from the smell that morning, that part's true too. And yes, the Harvard-bound debate team captain definitely cannonballed into the pond wearing only tuxedo socks and silver fairy wings. Everyone got shots of that.
But there's no way the other stuff happened.
Not like the pictures are saying it did.
My Rating
I'm not really sure how to rate this, but around 2.5 to 3?
Borderline 3 anyway, so yeah. :))
About the Author
Sarah Ockler is the bestselling author of novels for teens, including The Book of Broken Hearts, Bittersweet, Fixing Delilah, and the critically acclaimed Twenty Boy Summer, a YALSA Teens' Top Ten nominee and IndieNext List pick. Her latest, #scandal, hits the shelves in June 2014.
Sarah is a champion cupcake eater, coffee drinker, night person, and bookworm. When she's not writing or reading at home in Colorado, she enjoys taking pictures, hugging trees, and road-tripping through the country with her husband, Alex.
Giveaway
Win a prize pack with 4 Signed HB of Sarah Ockler's books: (Twenty Boy Summer, Fixing Delilah, Bittersweet, and The Book of Broken Hearts) - US Only
- Must be 13 or older to enter
- Giveaway ends
- A false entry will be consider as cheating, so this person will be disqualified.
- Winner will be notified via email and needs to answer in 48 hours letting us know if he/she accepts the prize and send us his/her full name and address.
- Your personal information won't be used or be seen unless you're the winner of the giveaway. We won't sell it nor use it in a bad way.
a Rafflecopter giveaway