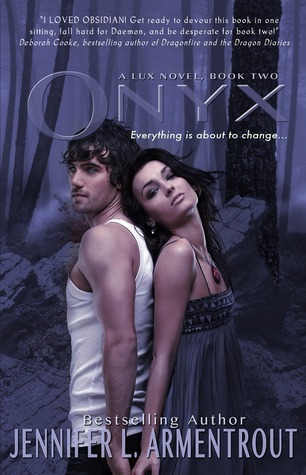 Title: Onyx (Lux #2)
Author: Jennifer L. Armentrout
Publication Date: August 14, 2012
Genre: Young Adult, Romance, Aliens
Synopsis from
Goodreads
:
Being connected to Daemon Black sucks…
Thanks to his alien mojo, Daemon's determined to prove what he feels for me is more than a product of our bizarro connection. So I've sworn him off, even though he's running more hot than cold these days. But we've got bigger problems.
Something worse than the Arum has come to town…
The Department of Defense are here. If they ever find out what Daemon can do and that we're linked, I'm a goner. So is he. And there's this new boy in school who's got a secret of his own. He knows what's happened to me and he can help, but to do so, I have to lie to Daemon and stay away from him. Like that's possible. Against all common sense, I'm falling for Daemon. Hard.
But then everything changes…
I've seen someone who shouldn't be alive. And I have to tell Daemon, even though I know he's never going to stop searching until he gets the truth. What happened to his brother? Who betrayed him? And what does the DOD want from them—from me?
No one is who they seem. And not everyone will survive the lies…
My Thoughts
Onyx, the sequel to JLA's Obsidian, starts off with a new problem for Katy. After Daemon healed her, she develops a sort of bond with him, and she's convinced that it's the reason behind Daemon's attraction to her. She's more confused than ever. How will they keep this connection a secret from the Department of Defense? What's the story behind the new kid in school? And what really happened to Dawson?
Since I started my review of the first book with my thoughts about Daemon, I suppose I'll start this the same way. I have to say, Daemon's changed a lot, and I like the new Daemon far better than the douchey one he started out as. He can be overbearing and jealous on a lot of occasions, but I get that he just wants to be there for Katy. I love that Katy is so determined to learn to take care of herself so that Daemon won't feel the need to protect her all the time. Blake was just meh. It's annoying that he can't seem make decisions for himself. I admire his willingness to do anything for his friend, but ruining the lives of others is not the way to go. I hate Will so much. He's such a selfish ass, and for the last part of the book all I could think about was strangling him! Urgghh. I kind of missed Dee in this one, because she doesn't appear much. I was glad to see more of Matthew, though; he seems pretty cool.
I like the plot of Onyx more than the first book's, because the story gets more complicated and interesting. There are so many questions to find an answer to that you can't help but keep on reading. I enjoyed how things were so intense most of the time, because it kept my blood pumping, and I love that. I'm really curious as to what will happen next!
Even more action-packed than its predecessor, Onyx is definitely a must read! Watch out for the next review! ;)
My

Rating