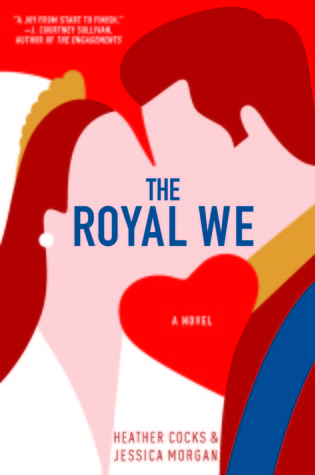 Author: Heather Cocks and Jessica Morgan
Publisher: Grand Central Publishing
Publication Date: April 7, 2015
Genre: Chick Lit, Contemporary Romance
"I might be Cinderella today, but I dread who they'll think I am tomorrow. I guess it depends on what I do next."
American Rebecca Porter was never one for fairy tales. Her twin sister, Lacey, has always been the romantic who fantasized about glamour and royalty, fame and fortune. Yet it's Bex who seeks adventure at Oxford and finds herself living down the hall from Prince Nicholas, Great Britain's future king. And when Bex can't resist falling for Nick, the person behind the prince, it propels her into a world she did not expect to inhabit, under a spotlight she is not prepared to face.
Dating Nick immerses Bex in ritzy society, dazzling ski trips, and dinners at Kensington Palace with him and his charming, troublesome brother, Freddie. But the relationship also comes with unimaginable baggage: hysterical tabloids, Nick's sparkling and far more suitable ex-girlfriends, and a royal family whose private life is much thornier and more tragic than anyone on the outside knows. The pressures are almost too much to bear, as Bex struggles to reconcile the man she loves with the monarch he's fated to become.
Which is how she gets into trouble.
Now, on the eve of the wedding of the century, Bex is faced with whether everything she's sacrificed for love-her career, her home, her family, maybe even herself-will have been for nothing.
Spanning nearly a decade, The Royal We is a richly imagined, emotionally compelling novel that examines, with warmth and wit, what truly happens after your prince has come.
*Thank you to Netgalley for a copy of this book. My thoughts are all over the place, that I thought of trying to use GIFs for this review. It's my first time and
OHMYGLOB. I never knew using GIFs were so fun and amazing. <3
I love books about royalty, such as this one. I honestly do. Even so, I don't go out of my way searching for them. When I came across
The Royal We
, OHMYGAWD.
I was excited, and I wanted to read it immediately. It was the first, after a while, that I started to read a book a few days after I got it. I was that excited. But the thing is, that excitement was short-lived.
The prologue immediately got me hooked up, since it seemed like it was giving me the idea on what is going to happen next, throughout the entire book. But as I continued to read, I found myself having a hard time to move. Although, I think this is just on me. The way The Royal We is written is in narrative paragraphs, wherein Bex goes into a storytelling of her romance with Nick.
It would have been good for me, if not for their length. The thing is, I just can't read long paragraphs because I'd find myself skimming or scanning over them in the long run. Reading a few long ones is okay for me, but reading them for the entire book? Nuh-uh.
I found myself slowly progressing than usual, although it wasn't bad enough that I'd not finish reading it. After all, the interactions were pretty cute, and I love how the romance between Bex and Nick developed. It was realistic, or as realistic as a royal love can be. With the royal drama, and everything coming between the two of them, hearing the point of view of Bex on this one was really great as she struggled with these.
The character developments were also amazing; I found myself connected with Bex (even though we probably don't have much in common). I could just feel her emotions, and there was just some point in the book that I cried. YES, I know I'm weird. It's supposedly a fluff read, but yeah.
I like Freddie over Nick though (IDK WHY). Nick is cute and all, but it felt like there was more development for Freddie than Nick. Also, LACEY. THAT BISH. I just wanted to murder her, with her selfishness and carelessness. Every time she appears in the story, I was like AAAAHHHH NOOOOOOO!!!! Every. Single. Time. I JUST DON'T LIKE HER.
OH, AND THE SETTING IS JUST SO AMAZING. I can't believe that I could totally relate! With all the palaces and places that they've been to, there were some that I could really visualize in my head. (OHMYGAWD, I'M SO GLAD FOR YOU, MY LONDON TRIP AAAAHHH. BRING ME BACK PLEASE.)
The first half of the story maybe slow, but it was great. The second half though? It felt really rushed, with all the things suddenly happening at the same time. There were some unrealistic stuff, too. Like, the drinking. Or the partying. THEY'RE JUST TOO MUCH. With their jobs and life, is that even possible?
Towards the ending, I was just confused the entire way. I just didn't know what to think anymore, and my emotions were so messed up.
SPOILER ALERT!!!
But I seriously didn't like Nick, that much can be said. He was like
I don't want to marry you because you kissed my brother twice, but I'm going to marry you anyway because it's too much hassle to cancel it.
GO DIE.
Lastly, it felt waaaaaay too long. I would probably love this better if the pages were cut down, but still. It doesn't change the fact that The Royal We is a hilarious, quirky and cute read, with amazing characters and romance. If you love these kinds of reads, this one's for you!
My Rating
Real rating: 3.5