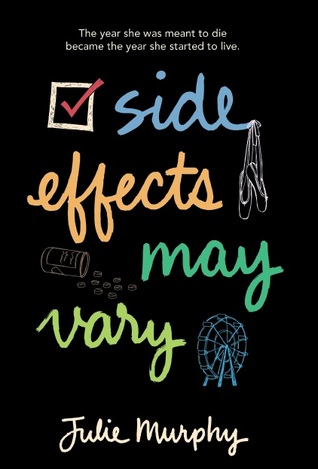 Title: Side Effects May Vary
Author: Julie Murphy
Genres: Young Adult, Contemporary Romance
Publication Date: March 18, 2014
Publisher: HarperCollins
What if you'd been living your life as if you were dying—only to find out that you had your whole future ahead of you?

When sixteen-year-old Alice is diagnosed with leukemia, her prognosis is grim. To maximize the time she does have, she vows to spend her final months righting wrongs—however she sees fit. She convinces her friend Harvey, who she knows has always had feelings for her, to help her with a crazy bucket list that's as much about revenge (humiliating her ex-boyfriend and getting back at her archnemesis) as it is about hope (doing something unexpectedly kind for a stranger). But just when Alice's scores are settled, she goes into remission.

Now Alice is forced to face the consequences of all that she's said and done, as well as her true feelings for Harvey. But has she caused irreparable damage to the people around her—and to the one person who matters most?

Julie Murphy's Side Effects May Vary is a fearless and moving tour de force about love, life, and facing your own mortality.


My Thoughts
At first I was hesitant to read Side Effects May Vary because I remember one of my friends not liking it, so I pretty much thought it not worth the try. It was only about a year later or so that I finally decided to give it a chance, partly because I couldn't find myself a new book to read, and now here I am, 336 pages later.

I think that there are definitely parts that are hard not to get annoyed at here, and the worst part is that it's mostly brought about by the main character herself. Alice is a selfish and manipulative person, and there were so many times that I wanted to knock some sense into her. She basically strings Harvey along just because she knows she can get away with it. What makes it even more frustrating is that Harvey actually followed her willingly for quite some time. I like Harvey, but he spent such a long time being so infatuated with Alice that I just ended up feeling bad for him. In spite of all that, though, I think these two characters redeem themselves if even a little by the end of the novel, and I'm glad to see that change in them. I suppose that their flaws, no matter how bad, make them more real in a sense, so while Alice is far from a likeable character and Harvey is just alright, they can be considered rather well-developed characters.

The plot is a new one for me; all the other cancer books I've read so far have ended in death, so it's nice to see a change there. The only issue I have is with the many POV changes (Alice then and now plus Harvey then and now) and the fact that there isn't really any pattern to the switching between them. I found that a bit confusing at times when I was reading, but everything else—pacing, development of plot—is good.

Although I have trouble really enjoying this book because of my dislike for Alice, I find that the novel's charm lies in its honest portrayal of how messed up people can be sometimes. It's not easy to write a book with a story interesting enough to draw readers in despite having a main character like that, but Julie Murphy did that job quite well, so while I can't guarantee that you'll like Side Effects May Vary, it probably wouldn't hurt to give it a read.
My Rating