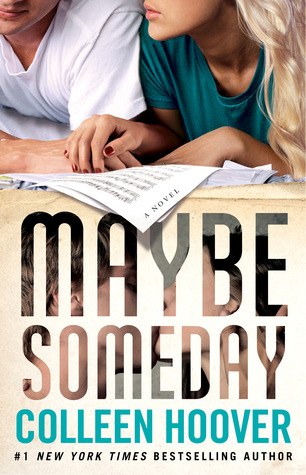 Title: Maybe Someday
Author: Colleen Hoover
Publication Date: March 18, 2014
Genre: New Adult, Contemporary Romance, Music
Synopsis from
Goodreads
:
At twenty-two years old, aspiring musician Sydney Blake has a great life: She's in college, working a steady job, in love with her wonderful boyfriend, Hunter, and rooming with her good friend, Tori. But everything changes when she discovers Hunter cheating on her with Tori—and she is left trying to decide what to do next.
Sydney becomes captivated by her mysterious neighbor, Ridge Lawson. She can't take her eyes off him or stop listening to the daily guitar playing he does out on his balcony. She can feel the harmony and vibrations in his music. And there's something about Sydney that Ridge can't ignore, either: He seems to have finally found his muse. When their inevitable encounter happens, they soon find themselves needing each other in more ways than one…
From #1 New York Times bestselling author Colleen Hoover, a passionate tale of friendship, betrayal, and romance—and the enchanting music that inspires one young woman to put her life back together.
Includes a free original soundtrack by musician Griffin Peterson.
My Thoughts
*Reading this book has made me go crazy, and I needed a way to vent out all the feels. So I ended up writing everything while reading, so it became this long. So I put on some subheadings, just this once. :D
*There's not much spoilers. I think. I don't know if you count them as spoilers because I knew these things beforehand and it didn't lower my reading experience. IT'S THAT GOOD. AAAHHHHH.
THE INTRODUCTION
I've been hearing so much things about this book, and frankly I was afraid to start reading this because I didn't know what to expect. Not to mention, I loved Slammed so so much, and I mean, what would I do if I love this more than Slammed? It took me a month to chill off my book hangover on Slammed. </3 However, this weekend, I went to an island for vacation, and the view is just so uh-mazing that it made me want to read a book. :D
The way their lives revolve around music IS SO COOL. I love the lyrics, and all that. The way Sydney and Ridge express what they cannot say through lyrics is just so amazing. Having an internet connection with me would definitely have made me fangirl more, when I get to listen to Griffin Patterson singing. However, I was having vacation in some island and there's scarce internet connection in the room I'm staying. </3 But still, the pictures are still etched into my mind so vividly, and whenever I close my eyes, those images are all I see. The balcony. The room. The couch. The guitar. Everything. AAAAAAHHHHH.
THE CHARACTERS
Hunterr and Tori are bitchies. People like them should perishhhh. Amongst all else, how can you ohcrappyhell cheat on someone. All just for sex. Not even for love. Hunter is an ass, expecting Sydney to go back to him? Go die. Sydney is so empowering with her reaction. Go girl power! Go Sydney! ;)
Sydney is so strong, with all the things happening around her and still being able to laugh is just so admirable. For her to be able to provide for herself and go do the thing she really wants just makes me go root for her. She doesn't blame others for the things that are happening, and she remains grateful and contented for what she has despite them not really being the best of the best. At some point, I got so mad at Sydney, though. I hated how Sydney started becoming like Tori. It's just not right.
Having a deaf character, through Ridge, is different, and helped me understand more about the deaf, even if it's for a little. I thought that it'd be a little bit harder to connect with him, but I was wrong. I fell completely in love with him right from the time he played his guitar. I love how he puts everything into consideration and chooses to do what's right, and what's the best, even though if someone might get hurt. I love how he tells everything and keeps no secrets to Maggie, his girlfriend.
Maggie. I really want to find myself disliking her because I ship Sydney and Ridge, but if she's that cheerful, bubbly person, how can I make myself dislike her? She's just so charming. I don't know if it's possible at all, but I think I love Maggie more than Sydney. Even if Sydney is the heroine, there are times that I hated her. Maggie's speech to Ridge just made me teary-eyed. It's so painfully beautiful.
All the secondary characters were also amazing! I love them all, most especially Warren. Ohmygosh. He's such a great, awesome friend. AAAHHH. I fangirl over all characters. I DIE.
THE ROMANCE
Ridge and Sydney both are damaged in their own ways, not only themselves but also the influences and people around them, and that's what makes them strong and stay connected. It's like, their fates are already intertwined, but they just don't know it yet. The two of them are so mature and reasonable. I love how their reasons aren't just mere justifications and excuses. They are real. And in their situation, honestly, it was the best thing to do.
The both of them are just so cute, and I love how from so serious, the mood becomes light and I start smiling again. From one moment, I feel like I want to cry for all the things happening between Sydney and Ridge, that I feel like I'm filled with heartache, and then the next thing I know, I'll be smiling like crap. Oh, I hate how this book makes me seem like a crazy person. Especially when I'm reading by the poolside. Oops.
WHAT I LOVE AND HATE
It takes a lot of courage, but really, thats the thing I like the most in Maybe Someday. All the characters have their own weak points, but they're never afraid to speak out whats on their mind and how they truly feel. I could kill to be able to have that kind of attitude. Okay. I seriously need that in my life. Especially now.
I'd find myself smiling all the way, but frowning also at some parts. It was like as if the characters were alive and real, and I was one of them. I'd have to put the book down for several minutes and continue reading again. It was ALL THE FEELS. <3 It didn't help that I'd want to place all post-its on the book, but it wasn't mine :( [I'm bankrupt. Can't buy a book. Huhuhu.]
I need a copy of this book so much that it hurts. HAHAHA. When I have enough money, I'll definitely head straight to the book store to purchase this book!
"FOR HER I BEND, FOR YOU I'LL BREAK."
All the time while I'm reading Maybe Someday, all I can think of is: ALL THE FEELS. WITH ALL THATS HAPPENING IM DYING WITH FEELS. AND I FEEL THAT IT'S JUST THE START OF EVERYTHING. OHMYGAWD. AAAAAAHHHHH.
That ending really left me speechless. I really don't know what to do anymore. I don't know what to feel. I am bursting of emotions. The ending was spectacular. As always. And right now I'm having one of my most intense book hangover. Ever. Everything about Maybe Someday is heart-achingly raw that never ceases to pierce through me with all the emotions and feels.
Colleen Hoover is just so amazing because she was able to make me look past all the cheating and betrayal and all those negative stuff even though I really dislike them. Despite all these, I've come to love Ridge so much. I will always fangirl over Colleen Hoover. <3 <3 <3
Loving this book is an understatement. It's so much more than that. Is there even a feeling higher than love? :c Anyway, just go read it now. Please. I'm sure you won't regret it! Maybe Someday is just so perfect! It was heartbreaking, but it was also comforting. It was EVERYTHING.
P.S. When I got home from my trip, I listened to the Maybe Someday soundtrack album. I CRY. All the feels are coming back. They're rushing to me. And I've just listened to Maybe Someday only. At the moment. HUHUHUHU. My heart may not take any much more than this. First, Will Cooper than now, Ridge Lawson. Oh, what will I do?
My Rating
This is more than five stars for me! AAAAHHH. It's perfeeeect! <3