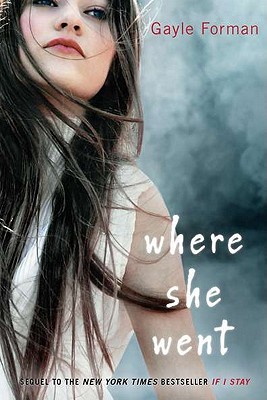 Title: Where She Went (If I Stay #2)
Author: Gayle Forman
Publication Date: April 5, 2011
Genre: Young Adult, Contemporary Romance
Summary from
Goodreads
:
It's been three years since Mia walked out of Adam's life.
And three years he's spent wondering why.
When their paths cross again in New York City, Adam and Mia are brought back together for one life-changing night.
Adam finally has the opportunity to ask Mia the questions that have been haunting him. But will a few hours in this magical city be enough to lay their past to rest, for good - or can you really have a second chance at first love?
My Thoughts
I really don't know why, but right from
If I Stay
, I don't like Mia anymore. My dislike towards her has increased even more in this novel. All the things she did to Adam was so sad and mean. :< I hated what was happening to Adam. He's a totally different person already, and his feelings and thoughts were so intense that I could feel all the heartaches and pains that he has.
Reading on made me understand more about Mia and Adam, and it made me realize that I couldn't really hate the both of them for what they did, or said. I love how Where She Went brought up a lot of emotions from me, and I can find myself contradicting myself. Wait, that sounded weird. But, yeah. It evoked so much mixed emotions for me, to the point wherein I thought Mia and Adam fit perfectly together, despite all their imperfections. I don't really believe in fate and destiny, but this time, I think they really are destined to be together.
I really love Adam (new book boyfriend! <3) because he's unselfishly selfish, if there's that kind of thing. He's willing to become selfish, as long as it's for the good of others. I almost cried reading this novel, and I actually just don't know how to write a review for this because it's so damn awesome and fantastic.
Where She Went is a sweet, emotion-racking, intense and painful story that is about finding your way back to love and sacrifices.
My Rating