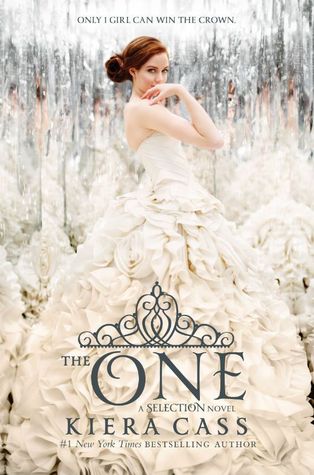 Title: The One (The Selection #3)
Author: Kiera Cass
Publication Date: May 6, 2014
Genre: Young Adult, Dystopia
Synopsis from Goodreads:
The Selection changed the lives of thirty-five girls forever. And now, the time has come for one winner to be chosen.
America never dreamed she would find herself anywhere close to the crown—or to Prince Maxon's heart. But as the competition approaches its end and the threats outside the palace walls grow more vicious, America realizes just how much she stands to lose—and how hard she'll have to fight for the future she wants.
From the very first page of The Selection, this #1 New York Times bestselling series has captured readers' hearts and swept them away on a captivating journey... Now, in The One, Kiera Cass delivers a satisfying and unforgettable conclusion that will keep readers sighing over this electrifying fairy-tale long after the final page is turned.
My Review
I read The Selection and The Elite a long, long time ago, and I honestly don't remember much of what happened in the past two books at all, except that I was really annoyed with America because she was so indecisive and fickle minded. She was all, Maxon or Aspen? I decided to read this right away, and messing up my reading schedule because I was afraid I'd come across some spoilers. Crazy, really, but I don't regret reading this first. This is such a great series-ender! Ohcrap.

Not remembering much details, and stopping at some points of the story to recall things did not ruin my reading experience. The One is so friggin INTENSE. I was so in to the story that I felt my heart beating really so fast, and I got nervous, sad, happy, and all those mixed emotions. Honestly, it was an emotional roller coaster ride with America. She was still annoying at some parts, but the whole thing was just so intense that I couldn't pay much to her attitude even if I wanted to. The entire book I was like, OHMYGAWD. THIS IS SO AWESOMELY INTENSEEEE.

Although, some parts were predictable, but there were also some parts that I really did not expect. There were also some parts that I went NOOOOOOO. Why did that happen. HUHUHUHU. (haha) The latter part of the story, towards the ending, felt so compacted for me because there were so much things happening at the same time. I got into a surprised state at how things are suddenly turning out. Then, they just ended abruptly. I just couldn't keep up that fast, anymore.

Nevertheless, it was so intense that I slept past my bed time, and devoted my next entire free time I had to finish this book. I'm in a super duper ultra mega hyper big book hangover right now, and I'm going crazy. My thoughts are all over the place, and I don't think I'll ever get over this yet for today. Or the next couple of days. Writing this review right now isn't doing anything much to help me, either. I can still feel all the excitement and anxiety and all the feels in me while writing this. Ohcrap.

If you haven't read The One yet, GO READ IT NOWWWW. It's an amazingly intense read about friendship, love, making the right choices, and being able to stay true to yourself, no matter what happens.
My Rating