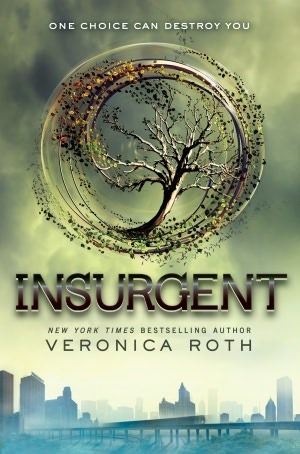 Title: Insurgent
Series: Divergent #2
Author: Veronica Roth
Genres: Young Adult, Dystopia
Publication Date: May 1, 2012
Publisher: HarperCollins
Purchase Links:
One choice can transform you—or it can destroy you. But every choice has consequences, and as unrest surges in the factions all around her, Tris Prior must continue trying to save those she loves—and herself—while grappling with haunting questions of grief and forgiveness, identity and loyalty, politics and love.
Tris's initiation day should have been marked by celebration and victory with her chosen faction; instead, the day ended with unspeakable horrors. War now looms as conflict between the factions and their ideologies grows. And in times of war, sides must be chosen, secrets will emerge, and choices will become even more irrevocable—and even more powerful. Transformed by her own decisions but also by haunting grief and guilt, radical new discoveries, and shifting relationships, Tris must fully embrace her Divergence, even if she does not know what she may lose by doing so.
New York Times bestselling author Veronica Roth's much-anticipated second book of the dystopian DIVERGENT series is another intoxicating thrill ride of a story, rich with hallmark twists, heartbreaks, romance, and powerful insights about human nature.
After finishing Divergent, it has taken me so long before I actually got to read Insurgent. Heck, I even watched the movie first, and I rarely do that. Well, I actually wanted to read it before the movie went on screen, but I was very busy at that time, that I wasn't able to. This time around, I really pushed myself to actually read Insurgent, and hopefully, Allegiant (before the movie also goes on screen), and I was not disappointed.
I found myself putting off Insurgent because I was afraid that it might not meet my high expectations, as some sequels do. Later on, I kept on thinking that the experience of reading it may not be the same, since I have already watched the movie. Meaning, I already have the idea of what's going to happen next, and it took the thrill out of me.
But, I was wrong. This one is definitely a page-turner. With action-packed and nail-biting scenes coming one after the other, I just couldn't stop reading! I would stop when I'd feel overwhelmed, and just take a breather from what is going on in the story, just so that I can digest it. I was greedy for more.
I love how Insurgent shows more of the other factions, aside from Abnegation and Dauntless. Knowing more about them as Tris analyzes the different factions from her point of view, it felt like I knew more about their world. With this, I can't help it but be continuously pulled in to what this series has to offer. I also love how there was just this surge of emotions coming from Tris as she undergoes a series of trials. Even with her flaws, it just made me love her more. Her strong personality, selflessness and bravery were all wow. Truly, it felt realistic (except for the part that they're in a dystopian world,) and it made me feel more connected with Tris. The only thing that I didn't like, I guess, was how Tris started becoming very whiny, which I think was very different from what I have imagined her to be. (Am I being judgemental?? HUHUHU)
Aside from these, I also love the relationship between Tris and Four. While only having started, their relationship was immediately pushed into several challenges and trials. Each has their own problems and secrets to deal with, and the way they break down simply shows that they aren't perfect. But still, I can't help but ship for them. All the way, I could just find myself cheering for them, you guys can do it!
I can't wait to get started on reading Allegiant (even though some people already spoiled stuff to me HUHU), but OMG, homework won't just stop pouring in. Will you please stop? Please. I need to read Allegiant, now!
Veronica Roth is from a Chicago suburb. She studied creative writing at Northwestern University, and wrote DIVERGENT (Katherine Tegen Books, May 2011) and INSURGENT (May 2012). The third and final book in The Divergent Trilogy, ALLEGIANT, will come out on October 22, 2013. In the meantime she will spend endless hours browsing Wikipedia in her pajamas as she eats corn flakes. (Or some other kind of bland breakfast cereal.)