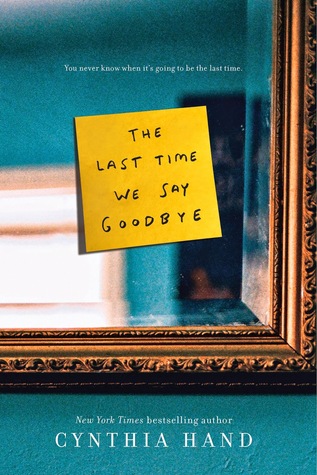 Title: The Last Time We Say Goodbye
Author: Cynthia Hand
Genres: Young Adult, Contemporary
Publication Date: February 10, 2015
Publisher: Harper Teen
Purchase Links:
There's death all around us.
We just don't pay attention.
The last time Lex was happy, it was before. When she had a family that was whole. A boyfriend she loved. Friends who didn't look at her like she might break down at any moment.
Now she's just the girl whose brother killed himself. And it feels like that's all she'll ever be.
As Lex starts to put her life back together, she tries to block out what happened the night Tyler died. But there's a secret she hasn't told anyone-a text Tyler sent, that could have changed everything.
Lex's brother is gone. But Lex is about to discover that a ghost doesn't have to be real to keep you from moving on.
From New York Times bestselling author Cynthia Hand, The Last Time We Say Goodbye is a gorgeous and heart-wrenching story of love, loss, and letting go.
"But here's the thing, that futuristic society where everybody is drugged to be happy all the time no matter what happens, it's horrible, monstrous even. It's like the end of humanity, because we are supposed to feel things."
Ohhh man. Such feels from this book.
The thing that struck me most was how realistic the story was. It gives you a look into how people deal with death—how we never notice it happening until we're directly involved, how there's no such thing as moving on; all there is is learning to live with it. Lex had me with her through everything, and as she remembered all the good times and bad times of her relationship with her younger brother Ty, I easily found myself smiling and crying (well, not really crying, but feeling sad) with her. All of it reminds me of this quote I once read or heard somewhere about how death doesn't happen to the person who dies; it happens to the people around him.
I loved how Lex gradually learned to come to terms with her brother's death and stopped blaming herself for what happened. It was evident how that event changed her, and that makes her character all the more believable. It's a good thing she had awesome friends (Steven! <3) who were always there for her even when she insisted on dealing with things herself. I couldn't help but feel happy for her when she finally realized that there was nothing she could've done, that she wasn't meant to be so hard on herself and take so much responsibility for what Ty did.
The Last Time We Say Goodbye is a beautifully written novel; the plot, the pacing, the character development, the ending—everything is on point. If it isn't clear by now, I definitely recommend this read! :)