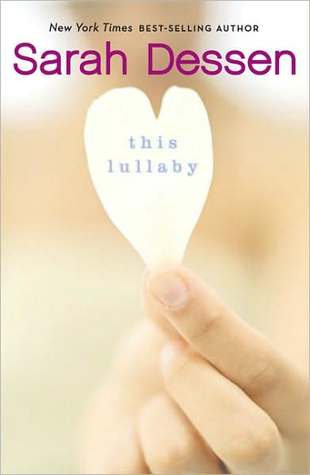 Title: This Lullaby
Author: Sarah Dessen
Genres: Young Adult, Romance, Contemporary
Publication Date: March 8, 2004
Publisher: Speak
Purchase Links:
When it comes to relationships, Remy doesn't mess around. After all, she's learned all there is to know from her mother, who's currently working on husband number five. But there's something about Dexter that seems to defy all of Remy's rules. He certainly doesn't seem like Mr. Right. For some reason, however, Remy just can't seem to shake him. Could it be that Remy's starting to understand what those love songs are all about?
(I didn't realize This Lullaby had been released waaay back in 2004, but here goes my long overdue review!)
The first thing I noticed about this book was how different its main character was from all the others I've read of Sarah Dessen. Remy was rather rebellious and didn't take any nonsense when it came to relationships. It was all business for her—meet someone, have some fun, then cut it off before anyone gets too emotionally attached. I liked that she was portrayed like this, because her not quite believing in love was realistic given how her dad left and how her mom just kept going through marriage after marriage.
I loved the characters because they were easy to relate to for the most part. There was a wonderful friendship between Remy and her friends, like even though they were so different from one another, they still ended up becoming close. The same goes for what Remy found with Dexter, as he was far from what she was looking for in a guy, yet somehow he fit with her and understood her. It's a great message that although someone may not be perfect, they can be perfect for you, and they can end up being exactly what you need.
There were so many cute scenes (like when Remy bought cutlery for Dexter!), but there were also touching ones. It was cool how the events in Remy's and her mom's lives sort of mirrored each other—while Remy learned to open herself up and let people in, her mom learned to be independent—and they were both able to start anew.
So despite me being more than a decade late in reading this one, I still very much enjoyed it! Dessen's This Lullaby offers a nice mix of interesting characters, a slightly predictable but generally good plot, and great character development that's sure to make you smile. :)